Today is our turn as participants in the I Spy Blog Hop. Kimie and Missy of On Williams Street, have organized to promote their new book, I Spy.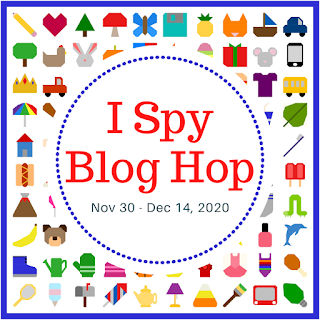 Since the goal in our bussines is to help you to have the best patterns for your self to enjoy, or for sale, we want to talk about different quilting techniques to show you how many ways there is to transform a design into a quilting pattern. 
One of the techniques we love is Foundation Paper Piencing. And what better way to start talking about FPP than to show you the great book Kimie and Missy have created. I Spy is a modern foundation paper pieced quilt that contains 100 FPP blocks.
For those who don't know about it, FPP is a is a technique that uses patterns printed on paper, so you can obtain a very realistic image. By sewing the fabric directly onto the printed paper, then joining the different pieces, you can obtain a very precise piecing. With this technique you can create a multitude of shapes and blocks, then assemble a full quilt, a block, or even words. Practically any image  can be used as a starting point.
Our first job used this tehcnique. It is a great way to make a custom pattern from photos of pets, animals or landscapes. We will be showing you it soon!
But today, we are here to talk about the book,  I Spy, by On Williams Street. We are really stunned about the big job they have done (100 blocks)! It is really well organized and explains very well how to sew the blocks and join them, and it includes a tutorial about the foundation paper piecing technique that makes the book a great tool for those who want to start sewing using this technique.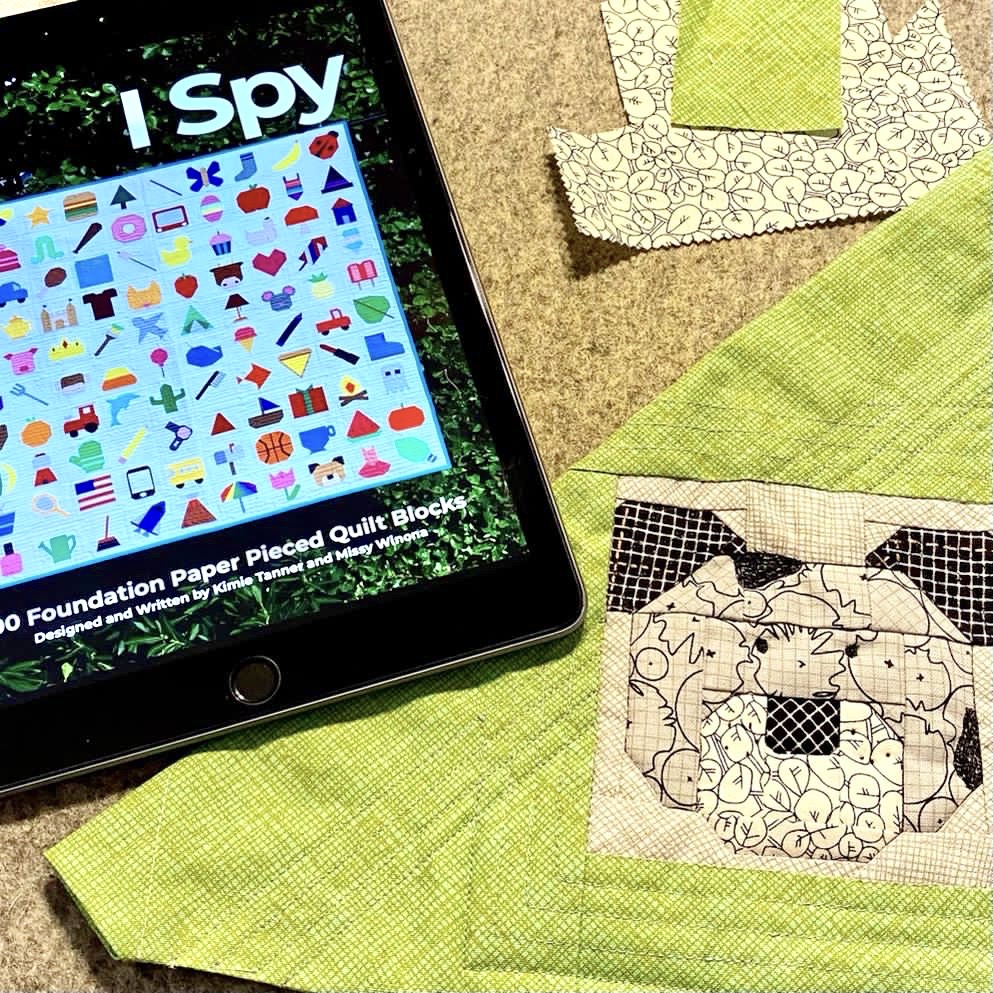 These are some features of the book we want to tell you about:
The blocks have a modern style that will allow you to create a modern looking quilt, or create any accessory for the house, kids or pets!
It includes a tutorial abut FPP technique.
Every block is 4″ square and if you join all the blocks, you will be able to make a quilt that measures approximately 51" square.

The blocks make reference to different themes: Around the




House, Playtime, Getting Ready, Dress Up, Animals, Sandcastles, Let's Celebrate, In the Garden, On the Move, On Vacation and Let's Eat. So, you have a large variety to choose from, or make items by season. 

Do you need a pattern to make mug rugs for Christmas? Or a fabric storage basket for your kids? Here, you have so many great choices.

Each block is labeled with a difficulty between 1 and 3. Start with the level 1 blocks, then move up to levels 2 and 3.
In the book, each block has a dedicated page, where you can see the level of difficulty, the page in the template file, the fabrics they used, a line drawing of the block with the sections, and an identification key for colour placement.
The book is available in a hard copy or in ebook, so if you are far away you can get the copy very easily online.

The templates aren't in the book, but for both formats (hard copy and e-book), you get a login and a password to access the templates. So you can print the pages as you need them.
Me and Sarah decided she was goona sew some of the blocks as she always have very good ideas. She wanted to sew 2 project with them surely you will love them.
The first project was a camping themed pillow. Sarah picked five blocks: the Roasted Marshmallow, the Campfire, the Tent, the Flashlight and the Star. They all are perfect for a camping pillow. This one will be a gift for her dad who loves to go camping.
To sew this pillow, Sarah used Carolyn Friedlander fabrics. In the book, the blooks are shown in solid fabrics, so we thought it would be great to show you how they could look in printed fabrics too. They are displayed in squares and Sarah used a 16" pillow form. And for the quilting, she used mostly echo quilting and some accent quilting.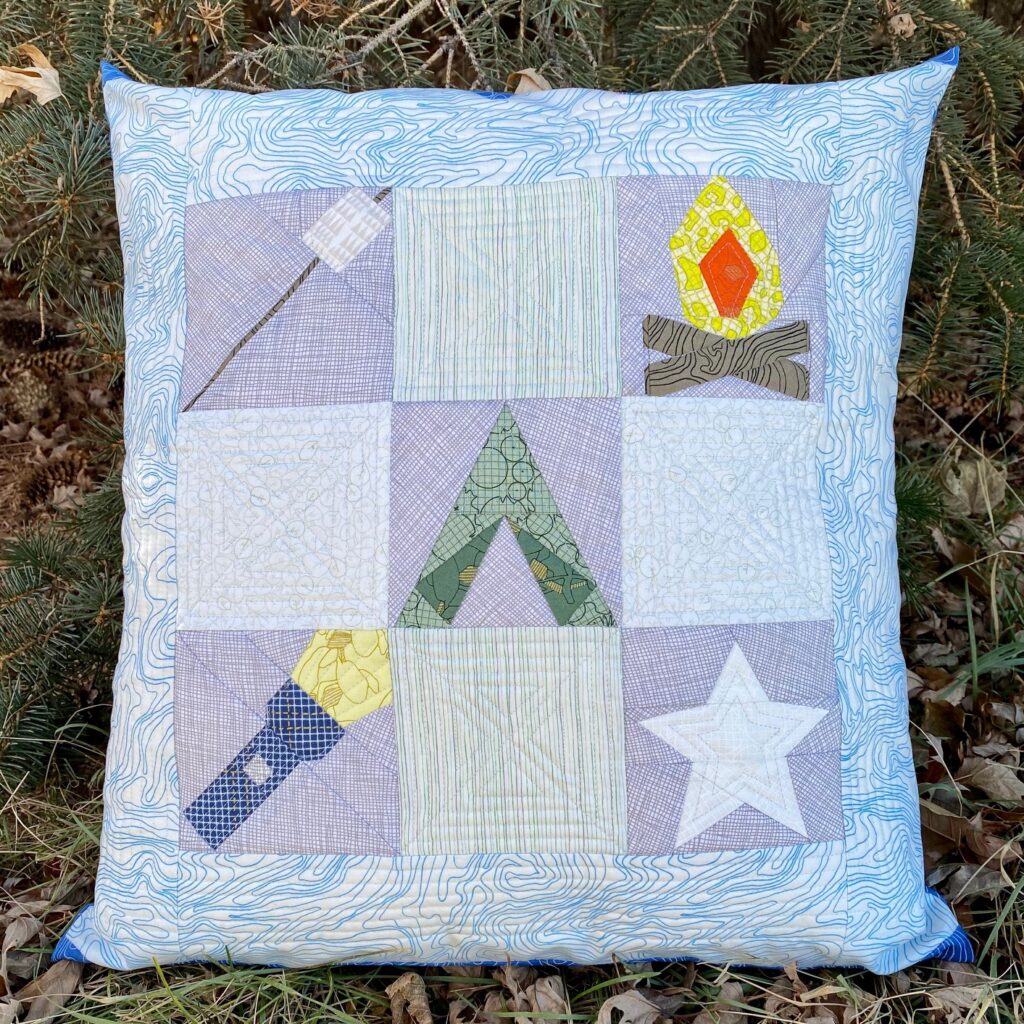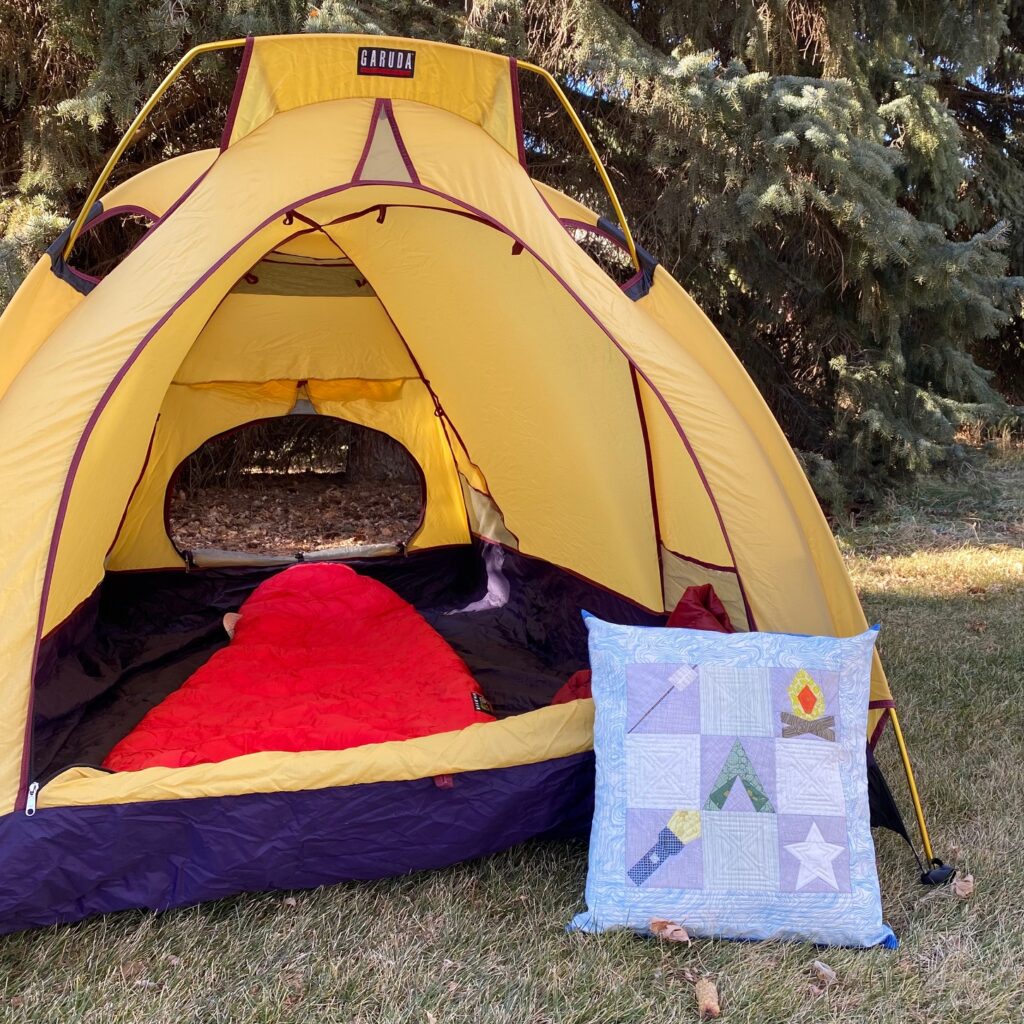 And the second project is a bandana for her adorable Cara, her soon to be 12 year old rescue dog! When she proposed me to that she sew this for her dog, I fell in love with this idea. It shows us the range of possibilites with this book. To sew the bandana she pieced the block into a 12" square, added a triangle of batting (fusible interfacing is an option too), then added some quilting. 
You can find the book in the On Williams Street Etsy shop. To celebrate the launch, they are offering a 10% off coupon by using the code ISPYBLOGHOP from November 30 to December 16